At Focalstyle we believe that genuine crocodile skin wallets will never go out of style, whether you're a man or woman, that's why offer a selection of affordable luxury wallets for everyone. Our exotic accessories are made with the best materials by our leather working artisans. Crocodile wallet, alligator wallet for sale, all our genuine crocodile skin wallets and alligator skin wallets are free shipping worldwide. We only offer high-quality and high-end genuine crocodile leather wallets,
alligator leather wallets to our customers.
Features
100% Genuine Crocodile Skin
Asymmetric and buckle design make this wallet unique and convenient
Lining: 100% Genuine Crocodile Skin
Function: wallet, purse, card holder, clutch
Interior: Cell Phone Pocket, easily meet your daily needs and manage your cards well
Color: Black, Brown
Dimension: 19 cm x 9.5 cm x 2 cm
Mens Crocodile Skin Wallet

The main materials we use in all of our exotic leather wallets are high-quality crocodile and alligator leather. To ensure our crocodile wallets, alligator wallets with the best quality and best performance, we arranged some very experienced leather craftsmen in our production line. Hope that every exotic leather wallet can be a beautifulwork of art, which can stand the test of time.

Mens Billfold Long Wallet
The Genuine Crocodile Skin Mens Billfold Long Wallet Purse is designed to keep everything you need safe. Several cardholders mean that you can keep all your credit cards organized. Pick a stylish exotic wallet that can accessorize with anything in his wardrobe, as well as being suitable for any occasion.The key selling point is that the inner also is made with real crocodile skin, it's slim and easy to carry.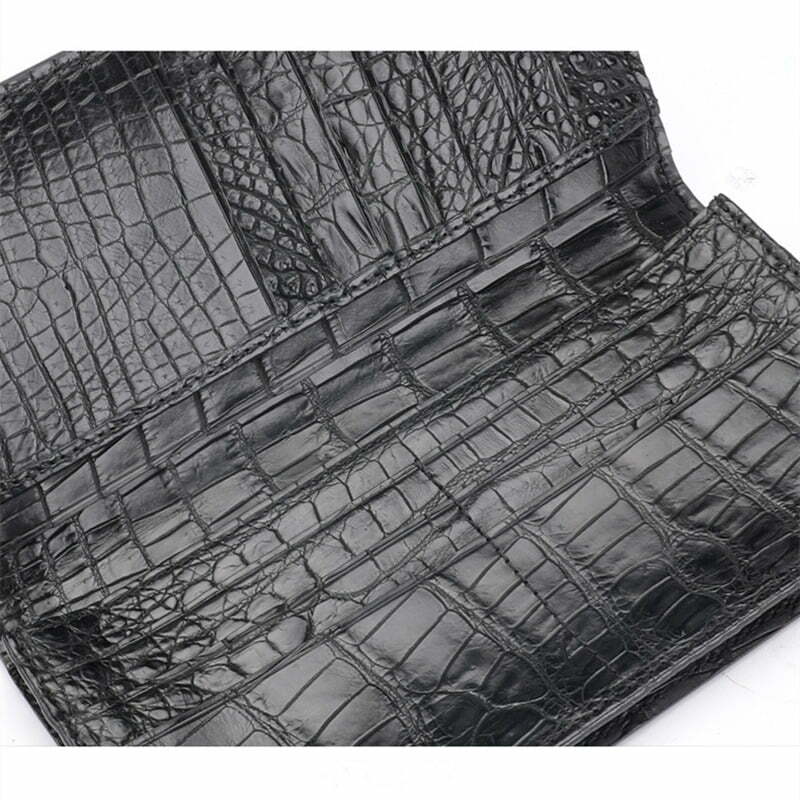 Fashion and luxury looking. Beautiful look together with a comfortable use experience which can perfectly shows your refined taste and our exquisite manufacturing process. The Selling Point is that the lining also is made with real corcodile skin, it makes the whole wallet looks luxury and touched well.